The Home and Garden show was a great time!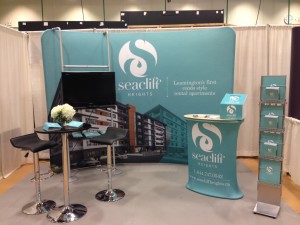 Over 1300 people attended this years home and garden show at the Leamington Recreation Centre March 27-29. We had a great time meeting all the local residents and visitors that came by to see us. It was an exciting time as we had a virtual tour setup to show our 105 unit condo. Visitors stopped by to say hello, pickup a brochure and package and enter their name to win our door prize which was a basket full of local wines and chocolates. Jean Jones was the lucky winner, congratulations Jean!
If you didn't have a chance to come see us at this great event you can still see the virtual tour here. and if you have any questions or want to setup an appointment,
please do not hesitate to call us at 1.844.747.0542.