Piroli Group Developments officially breaks ground on Leamington's newest luxury apartment building.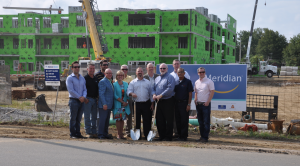 On Friday August 28, Piroli Group Developments held their ground breaking ceremony for Seacliff Heights – the new luxury apartment building in Leamington that has been under construction since May.
Rob Piroli, President of Piroli Group Developments, along with a group of invited guests that included Mayor John Paterson, Councillor John Jacobs, and members of the local media, gathered to acknowledge the progress of Leamington's first apartment building in over 30 years.
"We're very excited about the progress of the building so far…it is a big project for the area, and we are getting a lot of support from the community," says Rob of the development.
Located on the shores of Lake Erie in a quiet residential area, Seacliff Heights is just minutes from local shops and national retailers. It is exactly what empty nesters, retirees, and snowbirds in the area have been yearning for. "It is a beautiful place to call home, and appeals to anyone looking to downsize, or adopt an all-inclusive style of living," says one future tenant.
The details:
• 105 luxury units ranging in size from 1-bedroom up to 2-bedrooms.
• It is a "condo-style" building, which means high-end finishes, and resort-style amenities.
• Each unit features a side-by-side washer & dryer located in a laundry and storage room, oversized closets, and open-concept floor plans.
• All utilities are included – heating/hydro/air conditioning/water
• Building amenities include a common room with a full kitchen and games area, outdoor in-ground heated pool, as well as an outdoor lounge area that features a fireplace, BBQs, and cabanas.
Throughout the planning of this project, Rob has often been asked "Why Leamington?" It's not only because Leamington is the place that he calls home, but also because it is perfectly situated on the North shore of Lake Erie, with major cities like Detroit and Windsor only a short drive away. "Leamington is an active community with so much to offer [like mild winters, long summers, an abundance of festivals and concerts, and is home to 18 wineries, nearby golf courses, national parks, and miles of waterfront trails] that it appeals to residents who have lived here for 30 years, and those who are looking for a change of pace."
Seacliff Heights is the first phase of a 5-year planned development project for the area. Phase two will be a retirement residence, and phase three will be a replica of phase one.
With over 15% of suites already rented, the community is clearly excited about the newest addition to Leamington's economy. "I can't wait to move in," exclaims one future tenant.