$80 million investment coming to Leamington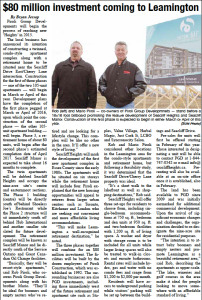 By Bryan Jessop
http://www.southpointsun.ca/images/sun_web_jan._7.pdf
Piroli Group Developments will begin the process of reaching new 'Heights' in 2015.
The local business has announced its intention of constructing a twinned, condo-style apartment complex along with a retirement home to be situated near the Seacliff Drive East/Cherry Lane intersection. Construction for the first of three phases — one of the two 105-unit apartments — will begin in March or April of this year. Development plans have the completion of the first phase pegged at March or April of 2016, upon which point the construction of the second phase — the other 105- unit apartment building — will begin. Phase 3, a retirement home of about 80 units, will begin after the second phase's estimated completion date of April 2017. Seacliff Manor is expected to take about 16 months to complete.
The twin apartments will be dubbed Seacliff Heights and occupy the nine-acre site's centre and easternmost sections. The Phase 1 building (centre) will be directly south of/behind Shoeless Joe's Restaurant while the Phase 2 structure will sit immediately south of/ behind Hub International and another smaller site slated for future development. The retirement complex will be known as Seacliff Manor and lie directly south of the Service Ontario and Great Canadian Oil Change facilities.
"Basically, they will be resort-style apartments," said Rob Piroli, who coowns Piroli Group Developments along with his brother Mario. "They'll be ideal for boomers and empty nesters who've retired and are looking for a lifestyle change. This complex will be like no other in the area. It'll offer a new style of living."
Seacliff Heights will mark the development of the first new apartment complex in Essex County since the early 1980s. The apartments will be situated on six storeys while the retirement home will include four. Piroli explained that the new housing opportunities will appeal to retirees from larger urban centres such as Toronto, Kitchener and London who are seeking out convenient and more affordable living accommodations.
"This will make Leamington a well-recognized retirement destination," he noted.
The three phases together will combine for an $80 million investment. The facilities will be built by the dozen employees of Piroli Construction, which was established in 1992. The surrounding businesses are also PGD investments, including those immediately west of the future retirement and apartment site such as Staples, Value Village, Herbal Magic, Just Cork It, LCBO and Syncronocity Salon.
Rob and Mario Piroli considered other locations in the Leamington area for the condo-style apartments and retirement home, but following a feasibility study, it was determined that the Seacliff Drive/Cherry Lane property was ideal.
"It's a short walk to the lakefront as well as shopping destinations," Rob said. Seacliff Heights will offer three set-ups for residents to choose from, including single-bedroom accommodations at 750 sq. ft., bedroom and den units at 950 sq. ft. and two-bedroom facilities with 1,200 sq. ft. of living space. A washer and dryer with storage room is to be included for all units while larger living spaces will also be treated to walk-in closets and ensuite bathrooms. Rental rates will include hydro, gas and water with no condo fees and range from $1,200 to $2,000 per month.
Residents will have access to underground parking while visitors' parking will be set up between the buildings and Seacliff Drive.
Pre-sales for units will first be offered starting in February of this year. Those interested in designating a unit will be able to contact PGD at 1-844- 747-0542 or e-mail info@ seacliffheights.ca. Prerenting will also be available at an on-site office once it is established, also in February.
The land has been available to PGD since 2009 and was initially earmarked for additional commercial development. Upon the arrival of significant economic changes and challenges, the organization decided to re-designate the nine-acre site for residential purposes. "The intention is to attract baby boomers and empty nesters and promote Leamington as a beautiful retirement area," said Rob, describing the apartments as upper-scale. "The lake, wineries and golf courses in the area make it ideal for people looking to move somewhere with an affordable standard of living."